Archive for the 'Web Misc' Category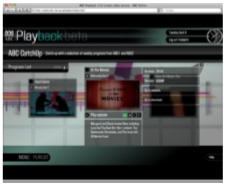 While I was recently reminded of, and amused by the success of the BBC's video-on-demand iPlayer service in the UK, it did get me thinking about the ABC's digital ambitions, in particular the National Broadcaster's recently beta launched iPlayer-like service ABC Playback.
What follows is my take on the ABC's latest step into the future… Continue reading "Playing with ABC Playback." »
In April 2006 the BBC ran a competition asking for a new design for the frontpage of their crazy popular website bbc.co.uk. I entered that competition and was one of ten runners up. My design for the site scored me a iPod Nano which I later gave away to a reader. The BBC has finally launched a beta version of the new look front page and its available for the worlds criticism here.
All videos seem to be offline at the moment sorry, hopefully this won't last too long!
UPDATE: And we're back! Enjoy.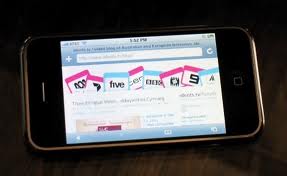 Podcasting never looked so good. Subscribe to the idents.tv podcast here, and carry me around with you on your iPod.. or on your iPhone if you're lucky enough to have one.
– Thanks for the photo Mitch.
Back in January I was sent a screenshot of the new abc.net.au/news, and while it was very much still a draft, it gave us some idea of what was coming.
The relaunched site is due to go live tomorrow, and from what I've seen its damn good. As you can see from the before and afters above, it is a much needed leap forward and has the most elegant and useful integration of video and audio I have seen on a news site. With simple audio and video flash players that appear and disappear thanks to the magic of ajax, it has Google Maps built right into the articles, which I immediately thought would be useless, until I realised how geographically challeneged I was and actually had no idea where Caloundra was (turns out its in Queensland).
The weather page is a brilliant, and even in fullscreen all the videos are more then enough, they load without any of the buffering that comes with the inconvenient WindowsMedia and RealPlayer formats that most news sites still use.
There is tons more to explore of the new site, but the incredibly simple and useful execution of audio/video and maps really are the top story of this news relaunch.
More screenshots below.. or visit abc.net.au/news sometime Monday.
Continue reading "Sneaking a peek at the new ABC News online." »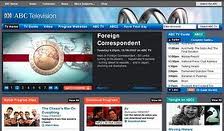 The folks behind ABC Online have been busy. A new ABC News site is due to go live any day now, and as of this morning there is a new ABC television portal.
With an emphasis on video (in user friendly full screen flash), and more full episode downloads including The Einstein Factor and The New Inventors, the ABC is taking some positive steps towards the promise of TV 2.0. The site encourages you to watch previews of upcoming shows and participate in a newly opened forum.
Check it all out for yourself right here.