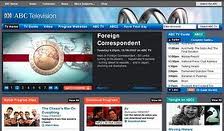 The folks behind ABC Online have been busy. A new ABC News site is due to go live any day now, and as of this morning there is a new ABC television portal.
With an emphasis on video (in user friendly full screen flash), and more full episode downloads including The Einstein Factor and The New Inventors, the ABC is taking some positive steps towards the promise of TV 2.0. The site encourages you to watch previews of upcoming shows and participate in a newly opened forum.
Check it all out for yourself right here.