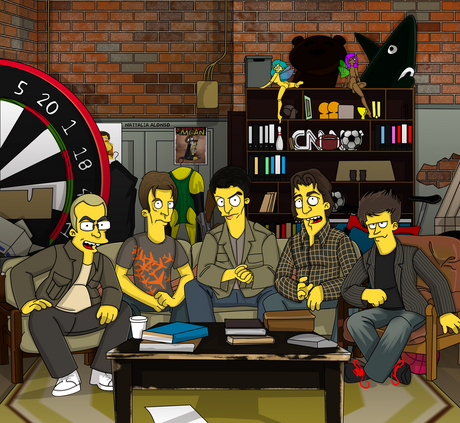 > Download the full size JPEG (7.8mb) or the wallpaper size JPEG (1.1MB)
I've been reading Watching with the Simpsons by Jonathan Gray over the past few days, and its helped me further appreciate The Chaser's War on Everything. Gray talks about "parody's potential to mock, make us laugh, and teach us all at once", and I think that sums up the incredible power of good television, and good media in general.
Parody, whether it be on The Chaser, The Office, or Arrested Development, uses our cultural literacy, or asks us to expand our cultural literacy to "get" the joke.
I may have gone to university, but it was Triple J, the ABC, a bunch of downloaded television and Wikipedia that made me the person I am today, which is kind of scary, but also why I think a smart and challenging media, from television to the internet, is for a lot of people a really accessible way to make us all a little smarter.
Update #1: I was at the taping of last nights episode, the Chaser guys displayed The Simpson's image on the monitors in the studio for everyone to see. Chris was concerned he was portrayed with a bit more of a stomach than he deserved and Chas was grateful to be the tallest one in the group for once. They knew I was in the audience, and got me to explain the picture, everyone seemed to get a laugh out of it, it was a very cool night.

Update #2: The Sydney Morning Herald picked up on it too, if you have the print edition check out page 22.

Update #3: Turns out it got a mention on Triple J too. Download the MP3 here.

Update #4: The Herald Sun wrote something on it today too, if you have the print edition check out page 25.
I commissioned Nattalia Alonso to create the image for me, thanks Natt!