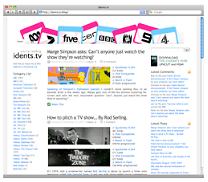 It's not as drastic a change as I was planning, but idents.tv now looks slightly different! It's a bit wider, and now has a third column.
If you're having problems viewing the new design, try holding down shift and pressing refresh in your browser.
The layout had gone unchanged for nearly two years, so hopefully this small freshen up will breathe some new life into the site.