Tag Archive for 'podcasting'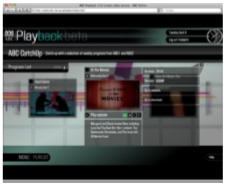 While I was recently reminded of, and amused by the success of the BBC's video-on-demand iPlayer service in the UK, it did get me thinking about the ABC's digital ambitions, in particular the National Broadcaster's recently beta launched iPlayer-like service ABC Playback.
What follows is my take on the ABC's latest step into the future… Continue reading "Playing with ABC Playback." »
UPDATE: The ABC will be offering downloads of Summer Heights High here.
UPDATE 2: The ratings are in.. Wednesday's rock the ABC.

> Quicktime H.264
(12.8mb)
> iPod Compatible
(5.9mb)
> Watch in Flash
(3mb progressive)

> Quicktime H.264
(13.1mb)
> iPod Compatible
(5.8mb)
> Watch in Flash
(2.7mb progressive)
In May last year Chris Lilley became the first Australian ever to win at the prestigious television awards, the Rose d'Or. He won for best male comedy performance in his show, We Can Be Heroes, which introduced us to among others, his character Ja'mie.
Ja'mie is back this week, with Summer Heights High starting Wednesday on the ABC.
UPDATE: The ABC served over 5 million downloads last month!

> Quicktime H.264
(4.9mb)
> iPod Compatible
(2.8mb)
> Watch in Flash
(2mb progressive)
Its been over a year since the ABC began their trial of video podcasting, and what started out with just two shows has now expanded to over a dozen of the national broadcasters news and entertainment programs.
And while the video is far from DVD or DivX quality, at 8-cents a day I'd say their doing a pretty good job. While the BBC has taken the iPlayer route allowing you to download a DRM protected version of videos that automatically deletes itself, I hope the ABC keep on with the podcasting, keep far away from DRM, improve the video quality and keep adding shows.
The ABC's enormous archive would probably make for a pretty good for-pay download store, amd I'm sure the ABC are already looking at something like that. For now though, no other network in Australia comes close to the video download offerings of the ABC and I look forward to seeing what they do next.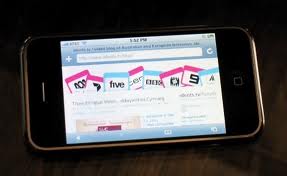 Podcasting never looked so good. Subscribe to the idents.tv podcast here, and carry me around with you on your iPod.. or on your iPhone if you're lucky enough to have one.
– Thanks for the photo Mitch.
Triple J's Hack current affairs program did a story this week about how Australian's are now the biggest downloaders of TV in the world. And who can blame us?
With Ten, Nine and Seven too busy protecting their ad revenue to offer downloads I think ABC has the perfect opportunity to step up and offer video downloads. I wouldn't mind them charging us for it through iTunes, or just video podcasting them for free. Either way, to get the ball rolling.. last nights entire episode of The Chaser's War on Everything.
> iPod Download 128mb (right click + save)
(You don't need a video iPod to watch, but you will need iTunes, Quicktime or VLC)